Dapat google reward lucky winner 2017
Hati-hati kawan kawan jika dapat email daripada google mengatakan kita terpilih memenangi google reward 2017.
Saya dapat email ini pagi tadi. kemudian rasa tidak sedap. Bila saya google balik, rupanya ia adalah cybercriminal Scam.
Mereka akan memperdaya untuk mendapatkan duit dan maklumat peribadi kita. Hati-hati ya.
baca maklumat dibawah ini saya dapat daripada satu laman web.
Beware of "Google Annual Promotion Reward 2017" Lottery Scam
The email message below, which claims that the recipients are winners in the "Google Annual Promotion Reward 2017," is a lottery scam. The lottery scam was created by scammers to trick the recipients into sending their personal information and money, by claiming that they are the winners of the Google Annual Promotion Reward 2017. But, there is no such Google lottery, and Google will never ask online users to send their personal information via an email message.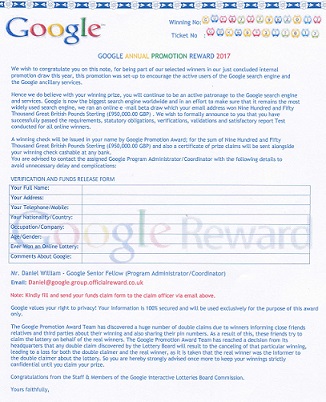 This type of lottery scam will ask you to send your personal information and subsequently ask you to send money in order to receive your prize. But, please do not respond to the email message or follow the instructions in it. Google is not taking part in or endorsing any lottery games, so if you receive an email claiming that you have won some lottery prize endorsed by Google, it is a scam.
There is no prize, so please do not send your hard earned money to these cybercriminals. If you send your personal information, these cybercriminals will use it to further scam you.
This lottery scam is similar to the following:
Please share with us what you know or ask a question about this article by leaving a comment below. Also, check the comment section below for additional information, if there is any.
Remember to forward malicious or phishing email messages to us at the following email address: info@onlinethreatalerts.com
sumber maklumat daripada:
https://www.onlinethreatalerts.com/article/2017/3/28/beware-of-google-annual-promotion-reward-2017-lottery-scam/